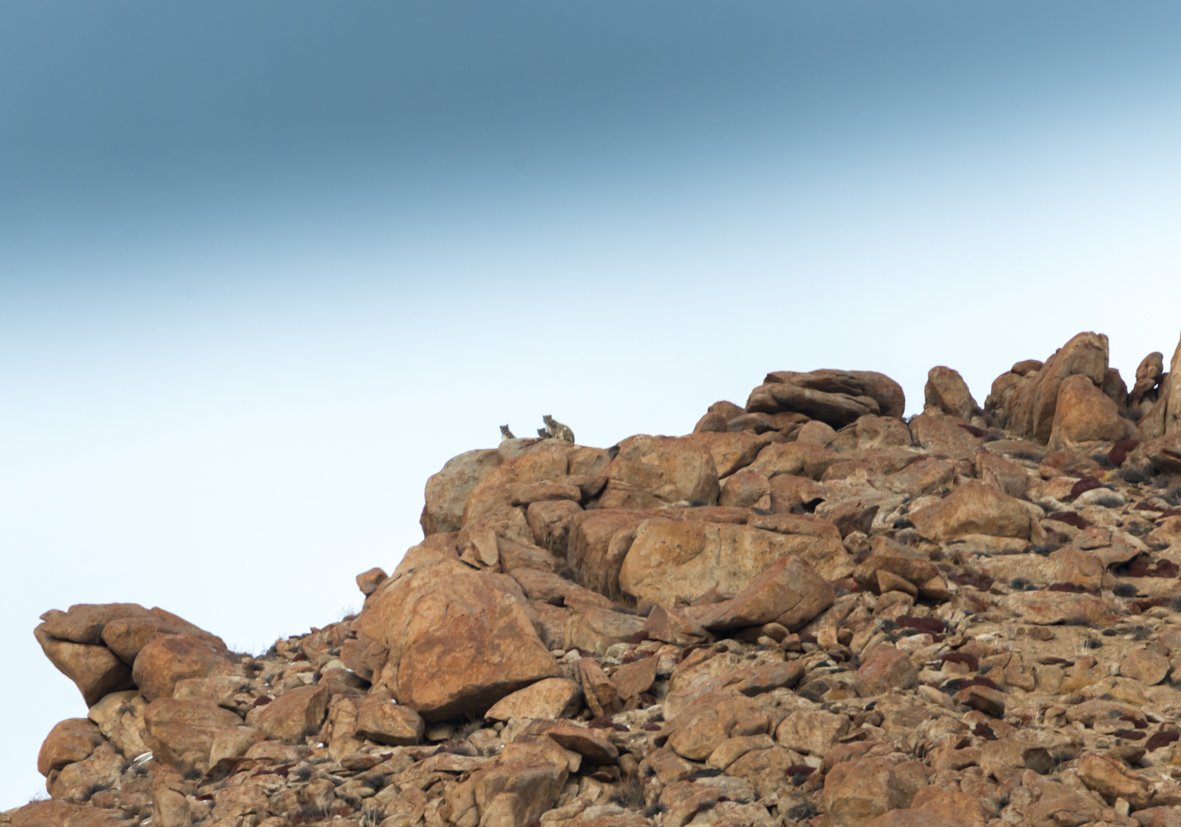 The Snow Leopard, my new Tiger Shark
There I was. In Ladakh India, trekking up an ice-clad ravine behind guide Jigmet Dadul at 4200 m, my crampons scrunched hungrily at the ice, slick with shine. As the frozen river swirled thick and twisted like ropes of de & re-frosted ice-cream, I found myself gasping in the thin air and staring at the back of Jigmet's hiking boots.What I was doing here in the Indian Himalaya, riding Jigmet's slipstream? Once, one of the wildest and most unimaginable things you could do, snow leopard trekking has been gaining tourism ground over the past four years. An amazing scene from "the secret life of Walter Mitty' – involving Sean Penn as a super-cool wildlife photographer Sean O'Connell- definitely helped move a trip to find the snow leopard up the rung of the ladder of the sexiest things to do in the world -right now.
Quote:
Sean O'Connell: They call the snow leopard the ghost cat. Never lets itself be seen.
Walter Mitty: Ghost cat.
Sean O'Connell: Beautiful things don't ask for attention.
One just cannot get much cooler than Sean Penn as he delivers this line. So, in part that's why I was here. I was in search of something beautiful that hadn't asked for my attention. Was the snow leopard the new tiger shark in my life? Like the shark, the cat is elusive but so darn beautiful that you have to look ! I was on a trip, expertly led by Mike Watson from Wild Images and Jigmet was our local hero. He was the man with the knowledge and the fact he also works for local NGO, the snow leopard conservancy, also helped. He found snow leopards for us on six different occasions and one of them was a mother with two large cubs- around 2 years old. Jigmet says his team have noticed that the cubs are staying with their mothers about a year longer than they used to, now until about 2.5 years. One of my favourite things about viewing the snow leopard as it peeked over the rocks at us was it's furry 'old angry man' face which appears like a squashed leopard face.
We didn't get any close sightings and all the cats I saw had to be viewed through a scope or binoculars. Even though I was shooting with a 600 mm lens with a 1.4x extender- my shots are from far. However, it did not detract from the experience of seeing the cats in their natural habitat. Much like the tiger shark, the elation of seeing one overshadowed all else.
We trudged over many a slippery gorge for hours and hours each day at high altitude. During these treks Jigmet told me of various 'run ins' between snow leopards and farmers living in the mountains. It was the same encroachment story I've heard so many times before. The problem seemed universal. It's an issue of space and food for both man and animal, pitting them against each other. However, this is a story with a happier ending. Instead of simply prosecuting farmers who kill a snow leopard that has worked its way into a corral and killed a valuable flock of sheep, Jigmet and his colleagues are deeply involved in working with the community. They realise that solutions must be found. Special stables are built for the herds and whilst organisations such as the Snow Leopard Conservancy-India Trust (SLC-IT ) supply the means, they ensure that the herders help with building and maintenance of the new leopard proof corrals so that they take 'ownership' of the project. The endangered snow leopard is also a source of pride for the people of the mountains. 80 % of Ladakhians practise Buddhism and it it shows. In their sweet, gentle way and with big smiles the Ladakhians are proud of their heritage and it's clear they want to protect it. This is a place where productivity is measured in the well being of the local people and the nature surrounding them.
In recent years it seems that groups wanting to see snow leopards are having 100% success rates with multiple sightings, just like ours. It's worth checking out the site They are doing an incredible job and like all NGO's, they need assistance in the form of volunteers and/or funding. You can view all the information on their site at Snow Leopard Conservancy India .If you are a good teacher then I really recommend you consider going to help. All the children I met were just incredible. I would go back there in a heartbeat.
I am going back in March 2017 and if you would like to join me then you will find all the information you need under the expeditions link on the services tab. My favourite sighting was the mother and her two large cubs. Here they are perched on a rock waiting to go hunting and peering down at us curious humans-staring up at them with a row of 10+ very large telephoto lenses.
We watched the family for two hours into the dusk and so I was also able to shoot the ensuing hunting sequence. The shots are not the best due to distance and darkness- but you can see the sequence and it's incredible (Some may have to enjoy this slideshow on a computer as it doesn't appear to show on all mobile devices) Tip: the long tail gives away the leopard attempting to hunt the urial (wild sheep) . We ultimately agreed that it was probably a cub learning to hunt as it gave up as the urial (mountain sheep) hit the rocks.
For mobile users who can't see the slides, here's a cropped scene from the hunt. Forgive the blur- This is the best way I can share this precious moment with you.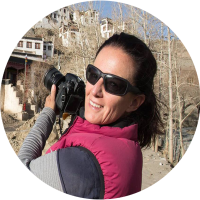 Blogger: Fiona Ayerst
Fiona is an award winning professional underwater and environmental photojournalist. Her work is published and portrayed throughout the world in numerous magazines, blogs and sites. Between May and October annual, Fiona manages Africa Media's environmental and travel journalism internship program.
subscribe
receive my missives direct to your inbox