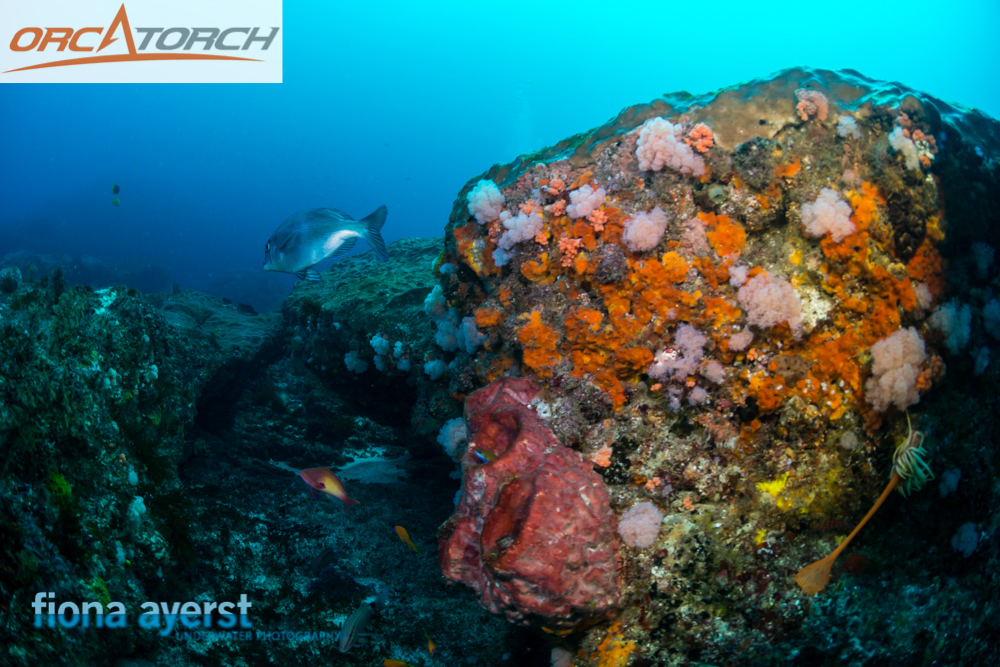 Review of Orcatorch D910V as a video light
I had the pleasure of being asked by Scubascene to test and review the D910 V video light this month.
Size: excellent travel size within its case. The torch itself is quite small and only weighs 430g. Easy to work with and not at all cumbersome as it is only 130cm in length.
Contents in the box very well presented and packaged torch, orange band for the torch, two-part charger (cable with magnetic contact and AC/DC adapter), spare o-rings, small user manual, warranty card, ball joint.
Output Rating: There are three neutral white light output settings to choose from on this impressive torch – 5000 lumens at high, 2000 lumens at medium, and 500 lumens at low. This is an Incredibly powerful light to bring light and colour back into your underwater footage.
Pressure tested to 150 meters.
Runtime: at high (5000 lumen) runtime is 50 minutes, at medium (2000 lumen) runtime is 2 hours and 10 minutes, and at low (500 lumens) the runtime is 8 hours and 50 minutes. This is very handy as you can adjust the brightness and power based on the amount of ambient light you have and increase running time. Charging time is 2.5 hours.
Beam: the beam angle is 120 degrees which provides a nice wide light and ensures you don't have any concentrated spotlight interfering with your film footage. A diffuser could be added for a softer wider beam.
Lights: central CREE LED light array which has three modes, changeable by a single titanium alloy switch on the dorsal side of the torch. The single button allows you to swap between the three brightness modes, as well as switching off.
Shortcomings: battery life at high mode might be an issue if you are doing multiple deep dives and want to be able to use the highest light possible at depth, as it only lasts for 50 minutes. For shallower dives where you can get away with using the lower powers, the run time is perfect for doing multiple dives before you'll have access to a charger. On the last double tank dive done with this torch, each dive was 30 minutes and the torches were being operated at high, so they ran out of battery before the second dive concluded. Apart from that, there's really nothing I can fault with this light.
Overall review :I absolutely love the simplicity of this torch, and the light that it provides underwater. This is a fantastic light for underwater videographers shooting wide and macro footage. There are also certain shots in stills that do work with this torch on full power, particularly in macro. It is certainly an extreme pleasure to dive with such lightweights instead of the very heavy strobes that stills photogaphers use. Macro subjects are incredibly well lit in both stills and video applications. For wide angle video this torch is perfect. You can choose between the three power settings based on your subject and ambient light. The ball socket mount allows the torch to easily attach to your underwater rig and be pointed in any direction necessary. The easy access of the single button means no confusion while underwater and is very easy to operate. The LED indicating remaining charge is also a very helpful tool. The LED light will illuminate when the light is turned on and show either green (for over 70% charge left), orange (70%-30% charge remaining), red (less than 30% charge remaining), and flashing red (for less than 10% charge remaining). This allows you to gauge your remaining time at each of the three brightness modes. This is a fantastic light to add to your underwater filming kit.It feels sturdy and should last a long time. I will use this light myself and will definitely purchase these lights for the underwater housings in my underwater film-making school.
Cost: Varies according to ZAR value against the dollar, but online you would purchase here in South Africa @ around R5600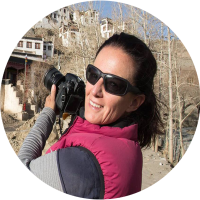 Blogger: Fiona Ayerst
Fiona is an award winning professional underwater and environmental photojournalist. Her work is published and portrayed throughout the world in numerous magazines, blogs and sites. Between May and October annual, Fiona manages Africa Media's environmental and travel journalism internship program.
subscribe
receive my missives direct to your inbox