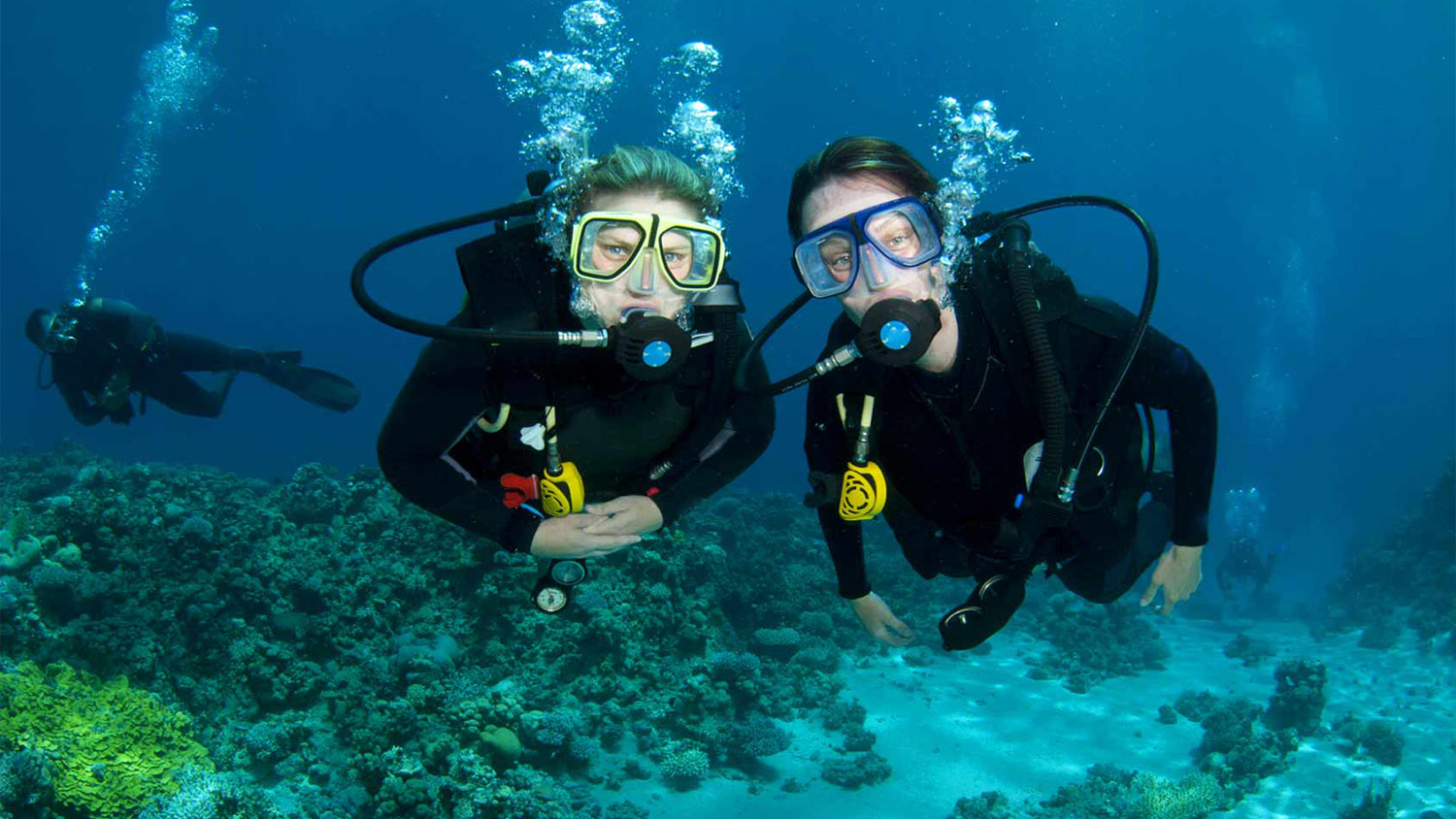 PADI Openwater SCUBA diver program
The PADI Open water course is where it all begins, this is your foundation course that will qualify you to dive anywhere in the world to a maximum depth of 18 meters. Millions of people all around the world have learned to SCUBA dive with the PADI Open water course and have continued to discover the wonders of the underwater world.
Academics
PADI's online training program is designed so that you can learn the academics at your own pace, when it is convenient for you. You can complete the academics online at your own time and keep the book and quizzes handy on your mobile device or laptop/desktop, never to be lost!
Equipment
In the PADI Open Water Diver course, you learn to use scuba gear, including a mask, snorkel, fins, regulator, buoyancy control device, a tank, a compass and a surface marker buoy, that you learn to deploy yourself. The thickness of the wetsuit you wear may change if you live or travel in a warmer climate,  but in Mossel Bay you will learn in a 5mm with a hoodie to ensure you stay warm during training
Pool Training
When you're fitted with your scuba equipment you can begin your pool training at Oceans Hotel in Voorbaai. Fiona will put into practice the techniques you learned in the academics program. Your training dives will be logged and approved by Fiona before you move on to open water.
Open Water Training
Get ready to experience everything you've learned with the freedom of open water. As soon as your open water training dives are approved by Fiona you will be a certified diver. PADI Open Water Diver certification is recognized worldwide to a depth of 18 meters so your diving experiences will be limitless.

Location
I run my SCUBA diving training courses in Mossel Bay, South Africa
Course dates
I run my PADI Openwater training courses on a adhoc basis. When you indicate your interest, we can chat and make a date that is most suitable for you. 
Eligibility
To participate in a PADI open-water program you must obtain a medical clearance from a GP stating that you have no respiratory issues. All students must be 14 years or over to participate. 
Will my certification be recognized internationally?
Yes! Your diving certification is not just limited to South Africa but is valid worldwide. PADI is the most widely recognized diving certification agency in the world – almost 80% of all recreational divers get certified through PADI. This means that your certification will be recognized wherever you go!
How safe is it to scuba dive?
Statistically, scuba diving is one of the safest sports there is out there, with very few injuries. Part of the reason for this is that divers get trained very well, and if you stick to the rules there is very little that can go wrong.
What open water reef do we dive on in Mossel Bay? We will dive on Santos reef for the most part. This reef forms the Western border of Mossel Bay's main swimming beach. Depth ranges from 2-7m. There is a colourful garden of feather worms, sea fans, red bait, octopus and abundant schools of blacktail. On the edge of the reef, "Sand dollars" can be found.
What about sharks in Mossel Bay? Sharks are a bit like dogs – there are a few different types in Mossel Bay. You get big ones, small ones, cute ones, ugly ones… some are friendly and some not so friendly. There are some shark species that we specifically go to look for at times, as they present no danger to humans and are really nice to see while diving. Seeing a Great White shark on a normal scuba dive in Mossel Bay is extremely rare – between our staff, we have thousands of dives under the belt and we have never seen one! However, there are no fences in the ocean, which means that there is always a chance of meeting one on a dive. Meeting a shark underwater does not mean that it will attack you, however. Scientists say that shark attacks on human are normally a case of mistaken identity, for example, a surfer on the surface might look like a seal to a shark. Scuba divers, however, spend most of their time under the water and not on the surface and as such do not look like a Great White's natural prey. The noise from the tanks bubbles also tends to scare them away!
Is the water cold around Mossel Bay?
Mossel Bay's water is not tropical, but we wear wetsuits to keep us warm when we go diving. We believe that there is no such thing as cold water – only divers that are incorrectly dressed!
What do I need to bring with me?
You need to bring the following:•    A towel•    Swimming clothes•    A snack to eat and something to drink during the day•    Coral friendly sunscreen with an adequate SPF factor;
Can I drive with you to the dive site from the kit up area?
Yes, you can.
Can you take pictures of me while diving?
We have an underwater camera. Please note that booking is essential for this and an extra fee would be applicable so if you are interested please let us know.
How old do I need to be to do the diving course?
You can do a youth dive course in a 2 m pool from age 8. You need to be 10 years old to dive in open water. Divers between ages 10 and 15 will receive a PADI junior open water certification, which is automatically upgraded to a full open water certification once they reach the age of 15.
How fit do I need to be to scuba dive?
You do not need to be very fit, but you do need to be reasonably healthy and should be able to swim. Please download the PADI Medical Questionnaire here, and if you answer "yes" to any of the questions on there, you would need a note from your doctor to say that you are healthy enough to scuba dive.
I don't have any friends that scuba dive in Mossel Bay – who can I dive with after I get certified?
We have some contacts in other cities, and ideas for you to keep diving on guided dives after your certification. Speak to Fiona to see which will work the best for you.
What's next after I qualify?
Once you have qualified as an open water diver, you can take part in the following programs:•    Guided dives – use your qualification to explore underwater.•    Diving holidays – sign up for one of our scuba holidays and get to dive in the best diving destinations in the world•    The PADI advanced open water course.  This is a very practical course full of the exciting adventures that can be had underwater – like wreck diving, boat diving, deep diving, and underwater photography.
Can I buy this scuba course as a gift for someone?
Of course, what a great Christmas Present. We can email you a voucher that you can give to a friend as a gift. This voucher will be valid for one year.
Start your adventure
Explore the wilds of Africa as an environmental and travel journalist intern with Africa Media